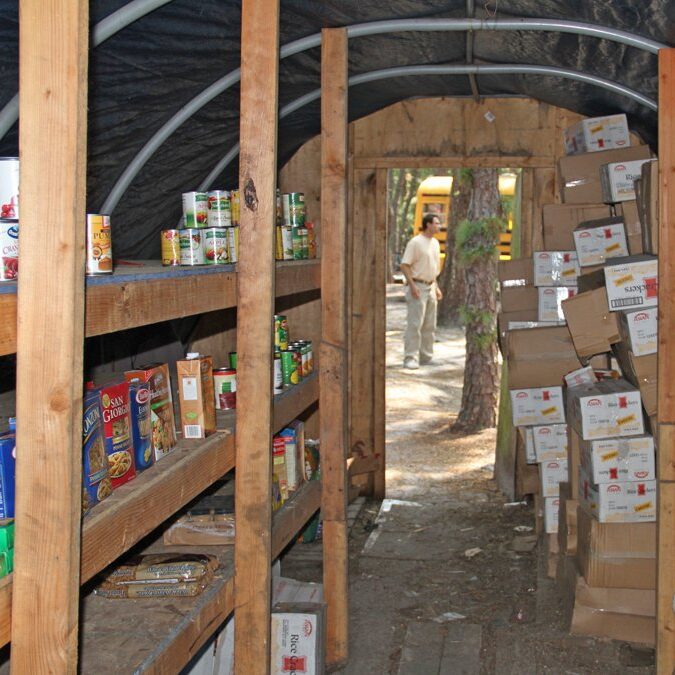 Do you know who's the most passionate about preparing by stocking up on emergency food kits and water? Probably those who've experienced not being prepared when a crisis hit. For example, victims of natural disasters such as hurricanes, tornadoes, snowstorms, heat spells… or pandemics that caused panic buying that stripped grocery store shelves bare and left our supply chain in disarray. Did you know that both FEMA and The Red Cross recommend that every American have at least 72 hours of NON-PERISHABLE food on hand in case of an emergency?
Few people would disagree that it's a good idea to store emergency food and water but the folks who are most convinced are the ones who wish they had been prepared for the tragedies they experienced. Many of them are now ready to face the next crisis because they realize from first-hand experience how crucial it is to be prepared. What some people are not quite as sure about, however, are the best types of emergency food kits to stockpile, as well as the strategies for storing them in a manner that will maximize usage once it comes time to access them. There are many mistakes made in this area, and the downside is significant. A lot of hard work can go to waste because just when emergency food is needed most, people can discover that their stored survival food has gone bad.
There are a number of examples regarding how this can happen. Someone could have huge amounts of grains stored, for instance, but quickly learn that too much of a good thing is not really that good. Balance and variety are essential, and not merely for your digestive system. They are also a psychological help to you and your family, especially if the emergency situation lasts for days, weeks or months. Another very important factor is the type of containers in which you store food. If there is exposure to air and moisture, it can ruin your food storage tactics. In addition, where you keep those containers is crucial because high temperatures and light can negatively influence vitamins, proteins and fats.
Nutrition & Variety Are Essential to Your Survival Food Stockpile
Too much of a good thing is not really that good…
Variety & nutrition will help you survive and thrive.
Other factors include your food's nutritional quality and how frequently you rotate it. You also want to make certain that the majority of food you store does not require refrigeration because a power outage would spoil those foods quickly. Finally, keeping some food at multiple locations is important because your home could be destroyed in a disaster, or you might not be able to get back to it right away.
Here are 10 Mistakes to Avoid When Building Your Emergency Food Stockpile:
1. Ignoring the importance of nutrition in stored food. This happens more frequently than one might think. Sometimes we're so concerned about the volume of food we store that we forget about vitamin and mineral content. There are some great survival food companies out there that offer a large variety of nutritious meals in their emergency food kits. These survival food kits have an incredibly long shelf-life ( up to 25 years) due to a state of the art, "low-heat dehydration" method which seals in the nutrition & taste of the food.

2. Using sacks or other containers that are not airtight. This is wrong for a variety of reasons. Air and moisture will greatly decrease the shelf life of stored food. In addition, containers that are not airtight increase the chances that insects or critters might get into your food. Triple-layer mylar pouches are one of the best storage methods for protecting your survival food. 4Patriots offers a 3-Month Survival Food Kit that not only has an incredible variety but all their emergency food kits are stored in mylar pouches.

3. Failing to keep food containers in a dry, cool place. Moisture and heat are two of the worst enemies of stored food. The storage temperature for most food should be between 40 and 70 degrees Fahrenheit.

4. Failing to keep food containers out of the light. You definitely want to head to the dark side when it comes to storing food. Light can deplete the vitamin content of food.

5. Storing too many items that need refrigeration. As mentioned, it's very likely a crisis will include the loss of power, which means your refrigerated items will spoil quickly without a generator.

6. Failing to include enough variety. After a couple of days of eating the exact same thing, you and your family are going to want something different.

7. Failing to include at least a small percentage of "comfort" foods. In addition to satisfying your sweet tooth, comfort foods will give you and your family a big psychological lift in a crisis.

8. Failing to check expiration dates and rotate stored foods. In each container, organize food by expiration date. When an item's expiration date is approaching, eat that food – or donate it to a shelter – and replace it with newer food. If you don't have the time or money to continually rotate and toss old food, we recommend purchasing survival food with a long shelf life like these emergency food kits from 4Patriots. They last up to 25 years when stored properly! They also off great variety and nutrition.

9. Failing to keep your stockpile discreet. Advertising to others that you have a stash of survival food could make you vulnerable when a crisis hits. Keep your preparations on the down low.

10. Storing all the food in one location. This is the classic case of putting all your eggs in one basket. If your home is destroyed in a disaster, you'll be glad you kept food and water at a secondary location.
Some folks believe that freeze-drying is the way to go with long-term food storage. While it's effective, it's also very expensive and strips the food of some of its vital nutrients.
Another common technique in the food storage industry is the cheaper "rapid dehydration" method that sucks all the water out quickly. But it can also pull out flavor and nutrients.
Low-heat dehydration is a proven technique that keeps flavor and nutrition locked in, and that food will last just as long as freeze-drying without costing an arm and a leg.
Two main advantages to dehydrating food are that it can stay fresher longer and can be stored and transported more easily. Water in food can carry bacteria, which will make that food go bad sooner, and it also weighs down that food.
If you are a do-it-yourselfer, dehydrating food would be a great way to prepare it for your stockpile. It will be more compact and easier to store as you keep it at home, and it will be lighter and more easily packed if you need to bug out. And anytime you want a quick and nutritious meal prior to a crisis situation, all you have to do is rehydrate it and eat it without having to bother looking for an expiration date.
Figure on dehydrated meat lasting only about two months, but many dehydrated fruits and vegetables will be good for a year or so. If you dehydrate herbs, they can probably last for several years.
In order to dehydrate some of your food, you can either use an oven set at a low temperature or invest in a modern, electronic dehydrator. That way, you can make food with an expiration of one month last about 12 months. You don't want to go much beyond a year in most cases because at that point, even though the water has been removed, it's likely the nutrients will start breaking down.
Regardless, storage is the key. Once you've dehydrated various foods, place them in airtight, plastic containers such as Mylar bags. You may think you've squeezed all of the oxygen out of a bag, but there is probably a small amount left, so use an oxygen absorber.
As far as rehydrating that food is concerned, all you have to do in most cases is place it in boiling water and stir, providing a little time for it to thicken.