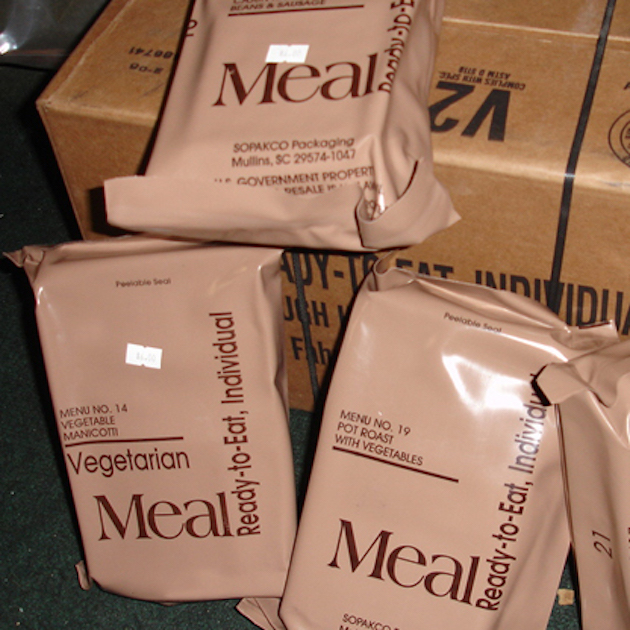 Steve is a former Marine and has had his fair share of terrible experiences with survival food kits. He was stationed in various countries throughout his career. So he's been to places where survival was whatever was in your backpack. Steve is a real customer who received a free product to test or as a thank you for submitting honest feedback.
He now lives in Michigan near Detroit and is stockpiling a whole new kind of survival food kit.
Steve said, from the old "C-Rats" to LRP's, nothing compares to 4Patriots Survival Food Kits. He's glad to always have them on hand because it gives him peace of mind. In fact, he suggests stockpiling other items in addition to food like solar generators, water purifiers, camp stoves and more.
"C-Rations were developed in 1938 as a replacement for reserve rations, which sustained troops during World War I, and consisted chiefly of canned corned beef or bacon and cans of hardtack biscuits, as well as ground coffee, sugar, salt and tobacco with rolling paper — not much in the way of variety," (Vergun, 2019).
"Long Range Patrol (LRP) is a restricted calorie ration meant for special operations, where resupply is not available and weight and volume are critical factors. It is issued at one per soldier per day for up to ten days. The LRP is packaged in a tan camouflage menu pouch similar to the current MRE," (Defense Logistics Agency).
Take it from Steve, if you're trying to decide between various MRE-like meal kits or delicious survival meals good for up to 25 years… we suggest that latter. 😉
Did you like this emergency food review? For more survival stories from real 4Patriots customers, click here.
*All testimonials in this advertisement are from real people; sometimes names and photos have been changed to protect their privacy and some were given free products in exchange for their honest feedback. Testimonials represent exceptional results, don't apply to the average purchaser and are not intended to guarantee that anyone will achieve the same results. The organizations, publications and people referenced on this site are not affiliated with 4Patriots. They have not endorsed, sponsored or recommended this product; no affiliation or endorsement is claimed. Terms & conditions apply.