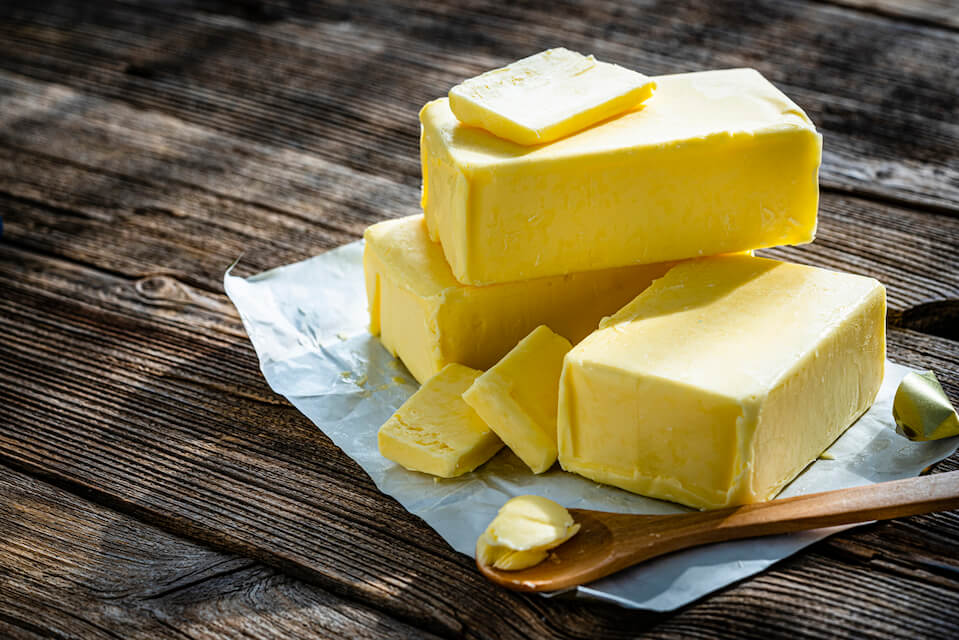 A traditional stick of butter will usually only last a few months — even less if you lose refrigeration. Butter powder can last up to 10 years* with proper long-term food storage, making it a great addition to your survival food supply. But how do you use butter powder? What can you make with it? Keep reading for tips, tricks, and simple and delicious recipes that use powdered butter.
What Exactly is Powdered Butter?
Powdered butter is made from real butter. Unlike other powdered products, it isn't dehydrated because butter isn't water-based. To make powdered butter, the moisture is removed, and powdered milk is added. The addition of powdered milk gives it a slightly milky taste and mild butter flavor. Additionally, it has a similar consistency to whipped butter rather than regular butter. It is a great substitute but works slightly differently than regular butter.
How to Use Butter Powder
To turn powdered butter back into solid butter, just add water! The ratios may vary from brand to brand, so follow the directions. The amount of water added to the powdered form determines the consistency of the reconstituted butter powder. The more water you add, the more spreadable it will be. Add small amounts of water at a time until it reaches the desired consistency.
There are many butter powder uses. Butter powder can be used as a spread, used to enhance richness and flavor, and can easily be substituted in baked goods.
To make a spreadable butter, simply boil water, add the butter powder, simmer for 5 minutes, then refrigerate for 30 minutes
When cooking with reconstituted butter powder, know that it won't melt like regular butter. Use oil to grease a pan and add butter afterward.
When baking with powdered butter, it's best to add the butter powder to the dry ingredients and water to the wet ingredients. If the recipe calls for softened butter to be creamed, beat the butter powder, water, and sugar together.
Butter Powder Recipes
Check out these seven delicious powdered butter recipes and get the most out of this survival stash staple. And don't be afraid to try substitutions in your other favorite recipes. It may take time to master the use of powdered butter since it doesn't act exactly like regular butter. Don't get discouraged — and try it out before you find yourself in an emergency situation.
1. Mac & Cheese
2 cups elbow macaroni, cooked
1 cup pasta water (reserve before draining the pasta)
2 tablespoons oil
¼ cup all-purpose flour
1-½ cups shredded cheese
4 oz cream cheese
2 tablespoons 4Patriots Butter Powder
1-½ cups reconstituted 4 Patriots Heartland's Finest Powdered Milk
½ teaspoon salt
¼ teaspoon black pepper
In a large pan, heat 2 tablespoons of oil over medium heat. Add flour, butter powder, salt, and pepper, stirring constantly until smooth. Reduce heat and slowly whisk in the milk, stirring constantly until combined. Increase heat back to medium, then stir in the cream cheese until incorporated, followed by the shredded cheese until melted. Reduce heat to low. Add the macaroni noodles and stir until completely coated.
2. Chicken Fettuccine Alfredo
8 oz fettuccine, cooked
1 cup pasta water (reserve before draining the pasta)
½ cup heavy cream (or equivalent reconstituted 4Patriots Powdered Milk)
4–5 Tablespoons 4Patriots Butter Powder
¾ cup grated Parmesan cheese
½ teaspoon ground nutmeg
Pour heavy cream and nutmeg into a large sauté pan on the stovetop and set to low heat, stirring frequently. Add the pasta and stir to coat. Sprinkle half of the butter powder and half of the cheese evenly over the pasta and stir until combined. And 2 tablespoons of pasta water, then repeat with the remaining butter powder and cheese. Continue stirring, adding more pasta water by the tablespoon if needed to bring the sauce together. When the sauce is thick and creamy, remove it from heat. Sprinkle with black pepper and serve.
3. Twice Baked Potatoes
2 large russet potatoes
1 Tablespoon 4Patriots Butter Powder
1 teaspoon Heartland's Finest Powdered Milk
Black pepper
Salt
¼ cup shredded cheese
¼ cup green onions, sliced
¼ cup bacon bits
Preheat the oven to 425 degrees F. Poke several holes in the top of each potato with a knife or fork, then wrap the potatoes in foil. Bake for 30 minutes, then remove the foil and continue baking for about 15 to 30 minutes until the skin is a little crisp and potatoes are tender when poked with a fork.
Remove from the oven and carefully slice the potatoes in half lengthwise. Let cool. Reduce the oven temperature to 300 degrees F. Line a baking sheet with foil and spray lightly with cooking spray. Set aside.
Without tearing the skin, scoop out the insides into a mixing bowl. Add butter powder and milk powder and mash until it's fully incorporated. Add salt and pepper to taste and continue mashing until potatoes are smooth (a few clumps are OK). Mix in half of the cheese, then scoop evenly back into the potato skins. Top with the remaining cheese. Place onto the prepared baking sheet and continue baking for 15 to 20 minutes.
Remove from the oven and let cool. Top with green onions and bacon bits to serve.
4. Movie Theater Popcorn
1 cup of popcorn kernels
3 Tablespoons oil
2 Tablespoons 4Patriots Butter Powder
Seasoning salt
Add 2 tablespoons of oil to a heavy-bottomed pan and heat to medium-high heat on the stovetop. When the oil is hot, carefully add the popcorn kernels and stir until they change color. Partially cover the pan with a lid, allowing space for steam to escape while the popcorn pops.
When all the kernels have popped, remove from heat and immediately add butter powder and remaining 1 tablespoon of oil. Stir to coat. Add seasoning salt to taste.
5. Biscuits & Honey Butter
For the biscuits:
2 cups flour
½ cup 4Patriots Butter Powder
1 tablespoon baking powder
¾ teaspoon salt
1 cup water
For the honey butter:
½ cup 4Patriots Butter Powder
½ teaspoon water
3 tablespoon honey
Preheat the oven to 400 degrees F. Line a baking sheet with parchment paper and set aside. Stir the dry ingredients. Add 1 cup of water and stir until just combined. Knead lightly, adding more flour if too sticky, and roll out onto a floured surface. Cut out the biscuits and place on the prepared baking sheet. Bake for 12 to 14 minutes.
While biscuits are baking, combine all ingredients for honey butter and set aside. Slather it on the warm biscuits when they're ready.
6. Blueberry Pancakes
1 cup all-purpose flour
2 teaspoons baking powder
2 tablespoons 4Patriots Butter Powder
½ teaspoon cinnamon (optional)
½ teaspoon salt
1-½ cup reconstituted Heartland's Finest Powdered Milk
1 egg (or equivalent 4Patriots Whole Egg Powder)
1 teaspoon vanilla (optional)
¼ cup sugar
¾ cup 4Patriots Freeze-Dried Blueberries
Powdered sugar, jam, or maple syrup (optional)
Mix dry ingredients except sugar in a large mixing bowl. Add in milk, egg, and oil, and stir until combined and mostly smooth (batter may be slightly lumpy). Stir in the freeze-dried blueberries (adjust amount per preference).
Heat a griddle or skillet over medium-high heat and coat lightly with cooking spray or oil. Scoop about ¼ cup batter onto the griddle. When batter begins to bubble, flip the pancake and finish cooking. Serve with powdered sugar, reconstituted powdered butter, maple syrup, and/or fruit.
7. Chocolate Chip Pudding Cookies
2-¼ cups all-purpose flour
1-½ cups 4Patriots Butter Powder
½ teaspoon baking powder
½ teaspoon baking soda
¼ teaspoon salt
3.4 oz (1 packet) of instant vanilla pudding mix
2 eggs (or equivalent 4Patriots Whole Egg Powder)
4 tablespoons water
½ cup granulated sugar
¼ cup brown sugar
1-½ cups chocolate chips
Preheat oven to 350 degrees F. Line a baking sheet with parchment paper and set aside.
Mix flour, baking powder, baking soda, and salt in a mixing bowl and set aside. In a stand mixer, cream together butter powder, water, and sugars at medium speed. Turn the speed to low and add eggs one at a time. Slowly stir in pudding mix until just combined, then slowly add flour mixture. The dough will be fairly crumbly. Remove the bowl from the stand mixer. Add chocolate chips and knead with your hands to bring the dough together.
Drop by tablespoon onto the prepared baking sheet. Bake for approximately 8 to 11 minutes.
Butter powder, powdered eggs, milk powder, and more! 4Patriots carries the shelf-stable ingredients you need to keep making all your favorite foods during an emergency. Don't forget to stock up on other survival foods, including emergency food kits that can feed you for anywhere from 72 hours to an entire year!
*10-year shelf life under proper storage conditions. Excess heat and/or damage to packaging may decrease shelf life.